Over the last couple of years of connected TV growth, local marketers and publishers have not exactly been the biggest beneficiaries.
Jeff Quandt wants to change all that.
In this video interview with Beet.TV, Quandt, Vice President, Revenue Partnerships at Entertainment Studios, says 2022 is going to see an ad sales jump for CTV – and he thinks local media can move the dial.
Keep it local
Quandt's Entertainment Studios is part of the Allen Media Group whose portfolio includes The Weather Group, Pets.tv and more.
When it acquired The Weather Channel in 2018, Local Now, a streaming local news and weather service, came in tow.
The company has since rebooted the offering as a free, ad-supported streaming TV offering with increasing diversity.
It includes local news, weather, sports, traffic, movies, TV shows, documentaries and channels geo-fenced to the user's ZIP code, plus a lot of content licensed from premium channel partners.
They may be Instagram official with PDAs for days, but how compatible are your fave celeb couples?

Celebrity astrologer @alizakelly digs into the charts to find out.

See what's in the stars for the stars on @peopletv's Celebrity Astrology Investigation: https://t.co/ip7YxuqMui pic.twitter.com/8jKy27mvu9

— Free local news, shows, movies, channels and more! (@LocalNow) November 29, 2021
The local differentiator
Quandt, who was Pluto TV's head of programmatic partnerships until last year, says local can help new FAST TV services find an audience, differentiating from "homogenous" rivals.
"A couple of the larger legacy FAST platforms dominate the space and there's often not a lot of differentiation between them," Quandt says.
"So what a newer player in the space like Local Now needs to do is offer the unique pieces that only we can.
"We really see local as being a linchpin to content experiences. At Local Now, we've gone ahead and done content deals and over 200 different DMAs where you can get personalised content around your local weather, your news, your traffic, your sports, all that good stuff."
CTV's growth prospects
US connected TV ad spending has been growing healthily, although eMarketer expects annual growth from 2022 to be slower even than 2019.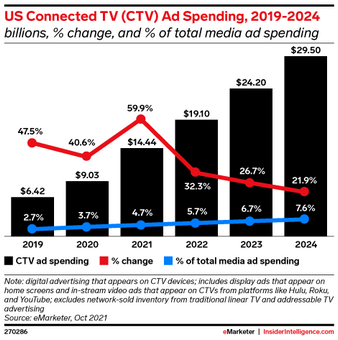 Entertainment Now's Quandt says: "It can be a hard to reach audience. As CTV has started to grow, finding some of those audiences can be a challenge out there, especially compared to traditional TV.
"There's still a lot of dollars out there to capture," he says.
"We'll follow this momentum where 2022 will be even bigger than this year, especially going into an election year."
Programmatic plus direct
He is targeting a 2022 upfronts ad sales season in which he wants to offer buyers both programmatic and direct-sold inventory.
Over the last year, Quandt's team growing partnerships with programmatic supply-side platform (SSP) providers like Unruly Media. Now he is looking for combine tactics.
"Programmatic is covering the bulk of our revenue," he says. "We do like that mix of direct and programmatic, but we're not looking to operate in a space where programmatic is handcuffed.
"We want to go put that foot forward when we're working through our upfronts, and programmatic is always a big conversation on the table. That's going to continue even more. Having the two work hand in hand together is where we've seen success in the past."
You are watching "Unlocking the Potential of CTV/OTT for Advertisers & Publishers," a Beet.TV leadership series presented by Unruly. For more videos, please visit this page.